August 2018 Monthly Theme – Sunset

Ken Piros
31.07.18, 10:00
Post 1 of 3
August 2018 Monthly Theme – Sunset

The monthly theme of August 2018 is "Sunset".

Every month I will post photo challenge and topic. Anyone interested in participating can post an image in the thread to show how you depict the topic.

The object of the monthly challenge is to get us out and shooting.
The shot should be a new shot you took this month, not something from your back catalog.

( Download the image to your FC account and post the link to the image in this thread ).

There are no prizes for the monthly theme just the fun and satisfaction of participating.
( There is a chance that those that decided to participate may see one of their images on the start page )

How to upload an image into the forum;

Under the Photo click on "Share" then "Embed Photo" Highlight the photo link- example-


[fc-foto:1234567]


Right click "copy" and then open a forum post and right click and "paste" into the message body of your post.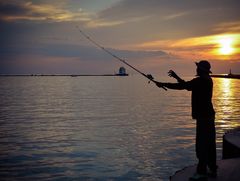 Fishing at the Lo… Ken Piros

02.08.18

10




Photography Quote of the Month;

When my own images don't work for me, it's almost always first because I've not been specific enough about what I wanted to show. They're sharp but really have nothing to say. And that makes it really hard to evaluate whether I succeeded or not. And that's when I find myself defaulting to the less helpful question of, is it any good? Because that latter question is so nebulous that it's just easier to fall back on the technical merits and assure my fragile ego that yes, in fact, it is good. It's a really sharp, really big, perfectly crafted photograph about nothing in particular. Yawn.  – David DuChemin
Last edited by Ken Piros on 02.08.18, 09:22, edited 2 times in total.

Adele D. Oliver
05.08.18, 18:49
Post 2 of 3

BGW-photo
10.08.18, 08:39
Post 3 of 3
* sunbeams * BGW-photo

09.08.18

42



I was glad to capture this warming sunset at my hometown ;-)
best wishes, Bernd