Photo Tip – Patience - Wait for it

Ken Piros
16.10.13, 00:22
Post 1 of 13
Photo Tip – Patience - Wait for it

The photographers eye…..we hear this phrase often. The ability to see an interesting foreground or background is just the start of the process to make a compelling image. Now the photographer has to wait for the main topic to present itself to complete the image.

Some people may not have the patience to wait for something else to present itself in the scene which will take the image to the next level. They just shoot the interesting foreground or background and that is their image. But those photos don't actually show anything that interesting happening, or don't have a compelling scene. A surprisingly high number of photos fail to clearly identify the main subject. Instead, a complex montage of elements compete for the viewer's attention. In a strong photo, the viewer can immediately identify the subject and the story.

Can there be more than one main point of interest in an image? Yes, as long as they are distinguishable and easily identifiable. When having more than one main point of interest one of them has to be more prominent than the other.

So while some may be pretty or interesting, they're ultimately forgettable. But a little patience can go a long way to make the image more interesting. Watch what's happening around you and look for decisive moments that catch your eye. You may see the scene that you want in your mind's eye and may not get exactly what you are looking for but you can get an acceptable variation of the theme. But really, the key to amazing photography is simply finding a good story. By training yourself to look for those moments that really matter, or those subjects that really stand out and that tell some sort of story, then you will strengthen your focus -- and you'll find yourself with much more meaningful shots on your SD card.

How long will you have to wait is up to you. Sometimes the scene is completely present the moment you walk up, and other times it won't develop at all.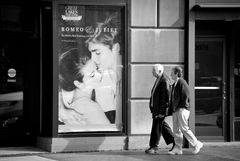 The Last Few Chapte… Ken Piros

01.11.11

107




In the above photo I noticed the Romeo and Juliette poster and thought of capturing a young couple walking past the poster holding hands, that was the easy shot / Idea. I waited about 20 minutes and had various people walk past the poster but not what I had originally envisioned. The older couple walked past and I had my variation, "The last few chapters of a love story".

Do you have a good main point of interest in your image? Mentally remove what you think is the main point of interest and how does the image look? Is it still a good image without it? In this image for me the main point of interest is the Romeo and Juliet sign in the window. Remove it and you just have an older couple walking down a sidewalk, not very strong. The older couple is your secondary point of interest, yet essential to making the image work. And having the patience to wait for the other elements to come together is key.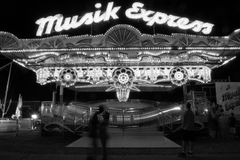 Kiss at the Musik Ex… Ken Piros

19.06.09

5




I like going to the fair in the evening and getting a shot of the rides and games with all the lights. I was setting up my tripod and taking some shots when I decided to wait to see if I could get some images of people walking past the ride to add more motion, or interest. A couple walked up right in front of the ride and kissed giving me the shot.

What I thought would be my main point of interest was the ride and the lights, but that quickly changed to the couple kissing once the elements presented themselves.

The key is to recognize the potential in the elements around you and have the patience to wait for the decisive moment to present itself.

My challenge to the FC community is to join in and discuss the techniques you have found useful. Write your own tip and post it in the forum or just add to this one. Be a bridge to the next generation of photographers.

Education is simply the soul of a society as it passes from one generation to another. - Gilbert K. Chesterton
Last edited by Ken Piros on 19.10.13, 15:58, edited 6 times in total.
19.12.13, 11:41
Post 2 of 13

Volkan Sendag
21.01.14, 00:23
Post 3 of 13

Anila Jain
22.09.14, 11:25
Post 4 of 13
Thank you Ken for the tips :)

Dennis Eads
21.08.15, 18:22
Post 5 of 13
thanks this was great advice I will put this into action!
abele17
26.06.17, 06:46
Post 6 of 13
Thank you! Nice tips
Administratively edited on 04.09.17, 07:38.

Andrea Belly
12.08.17, 12:01
Post 7 of 13
hey, Thanks for giving me this opportunity i am here to discover some interesting topics.
Administratively edited on 04.09.17, 07:39.
yahyahh
21.08.17, 06:19
Post 8 of 13
Valuable info. Lucky me I found your website by accident. I bookmarked it. This article is genuinely good and I have learned lot of things from it concerning blogging. thanks.
Administratively edited on 04.09.17, 07:40.
Gal Ken
21.08.17, 11:34
Post 9 of 13
I love the new site!! I know how much time, thought, and hard work it takes to bring a new site to fruition. You've done it, and beautifully! I'm raising my glass of tea to you in celebration of this enormous achievement!!! Hopefully, one day I'll have the pleasure to clink glasses with you personally!
Administratively edited on 04.09.17, 07:41.
atiqur17
29.01.18, 11:49
Post 10 of 13
Loved reading your thoughts. Be patient when you are a photographer! Really nice. Wait more and than some more to happen something exactly you are thinking about the picture. You will find that in your eyes. Just wait for the moment.
xxx
20.03.18, 14:05
Post 11 of 13
Your writing is so good! i have read only half of your article and its looking great to me. thanks.
atiqur17
26.04.18, 14:39
Post 12 of 13
I think, these photography tips below you probably never heard. I hope they help you improve your photography.

1. Images don't wait for you. So, always have a camera with you. May be the little one that you can carry in your pocket.

2. Pay attention to your background first. Don't let your subject be distracted by the background.

3. You have to train yourself to see everything in-terms of light.

4. Ask why.

5. Think making photographs, not taking pictures
Rachel Roberson
28.04.18, 09:13
Post 13 of 13