Simple question about rangefinders
17.06.06, 14:10
Post 1 of 14
What is a rangefinder ???

There you go .. told you it was simple :0)

Let's start with the presumption that I know it is a film camera of course.
Ruud van der Lubben
17.06.06, 15:18
Post 2 of 14
A rangefinder was used and maybe still is used in camera's which are not SLR and have no autofocus.
In the viewer you could see an often yellow square which cause a double picture.
On the moment the lens was focussed it would cover the view exactly and the double vision would disappear.

Thats my understanding of a rangefinder.
There were some of them on the marked as well without being a camera. Just the size distance.

Their model resembled quite much a handheld spotmeter.

If i remember right minolta use to have one. Also Leica's have a build-in rangefinder, and are therefore called rangefinder camera's



Post Edited (16:23h)
17.06.06, 15:29
Post 3 of 14
Cool - thanks oh wise one :0)
Yev Glad
28.06.06, 10:29
Post 4 of 14
Rangefinders are great! Before the introduction of SLRs Professional 35mm cameras used to be all Rangefinders. Think of Leica M system, Contax, Canons and Nikons had them and tons of other companies. They are still being made. Cosina Voigtländer makes very good ones, Zeiss has just brought out an excellent new Rangefinder and of course: Leica makes legendary RFs and is about to bring out a digital one - M8.

The good thing about RFs is that they are smaller than SLRs, and their lenses are smaller as well, but can be of excellent quality. They are also usually, but not always quiter when shooting, since they do not have a slapping mirror that slrs have.

If you want to find out more about RFs and the RF way of shooting check out this wonderful site:
www.rangefinderforum.com

Ravi Bindra
05.07.06, 16:06
Post 5 of 14
Hi,

Above posts tell you a lot.

One reason why RF have smaller lenses (physically) is that the rear element is closer to the film plane and so the cone of light (working backwards) is smaller in diameter when it enters the lens.

They are lighter and quieter than SLR (as no bouncing mirror) and so are perfect for street and candid photography.

And I do not get on with them so use a SLR ...

Also, there are already rangefinder digital cameras already on the market - Epson R-D1.

Hope that helps

Ravi Bindra
09.11.06, 21:23
Post 6 of 14
Hi,

And just to show I am not completely biased - I bought a RF second hand. I just used it last week at a wedding and shot 10 rolls over 8 days (large and long wedding with many functions). I am very happy with it. A few problems though: using a tele lens (75 or 90mm) then you only see a small square in the viewfinder to represent the view of this lens as opposed to a magnified view that you get with an SLR. There are only fixed focal length lenses - no zooms. BUT it is much lighter than my SLR and so I didnt mind carrying it all day.

The results are superb. The fixed lenses give a noticeably higher contrast and more vivid colour rendition than an SLR with a zoom lens. I did have problems with it - but will keep it anyway and just learn to live around them.
09.11.06, 23:19
Post 7 of 14
Thanks ... I have seen the lovely Leica M8 and it is on my christmas list .. sadly it is far too expensive to justify even buying it for myself, especially when an equally good lens costs more than my car ;0)

Dennis Veldman
03.04.08, 15:05
Post 8 of 14
hey guys!
got myself a canonet QL19 last week :)
look look :::
http://mattdentonphoto.com/cameras/canonet.html

and my first shots (didnt have a lightmeter with me just got out from the store :))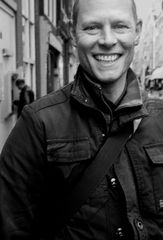 Catching photograph…
Dennis Veldman
29.03.08
14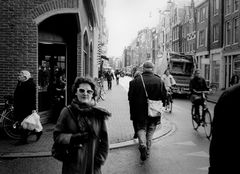 on the streets of ams… Dennis Veldman

29.03.08

13




will do a fashionshoot with it coming saturday, keep you informed!
excitingggggg

Edwin van Wier
23.05.08, 17:10
Post 9 of 14
You'll do fine with it. Canonets are great to work with and ha ve a fine lens.

angelina240
22.07.08, 13:00
Post 10 of 14
hello , how are im looking fur fhoto grafer her in germany as soon as possible im fhom poland i need new fhoto..the money we talk liter i need very fast pls. contack tel.+491751060008..

Fernand Dollenz
07.09.08, 03:42
Post 11 of 14

John Sampson
11.11.09, 11:14
Post 12 of 14
What Ruud is refering to is parallax correction. The lines or boxframe in the viewfinder matched the focal length of the lens and the angle of the lens used, as in the Leica. When you changed lenses the framing in the viewfinder changed to accommodate the angle covered by the particular lens fixed to the body.
Other cameras like the Zeiss , Voigtländer etc.,came out with fixed lenses in which case the framing in the viewfinder also remained fixed. There are many new models on the market even now as we speak, and they are simply great, often oudoing their digital cousins. I recently managed to find a Kodak Retina 1b on the street in Bremen , Germany. It is NOT a Kodak but a camera manufactured in Stuttgart, Germany between 1954 and 1958. It also just so happens to be the same model used by Edmund Hilary to record the conquest of Mt. Everest in 1955. The other camera used was a TLR Rollei. As soon as I return to my home country at the end of November, I will post some of the results from theRetina.
lv123
27.04.10, 08:00
Post 13 of 14
If you like RF camera 60~70S Japanese RF camera should not be missing like minolta ,YASchica, Olmplus 35 and pen as so on.konica S2 S3 are produced united 80s even made in China after 80S.
if you want a cheap RF Camear Chinese is should be like Phoixe JG205.which is mass profuction .the lens is 4 element 3 group F2.8 is soft image and sharp 3.5~11.

Stan Wooding (StanW)
20.01.11, 23:42
Post 14 of 14
For a good adjustable viewfinder, look for one of the old Zeiss Contax models, or the Russian Zorki.